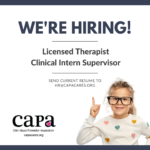 CAPA is seeking qualified candidates for a Licensed Therapist at CAPA-Independence and Clinical Intern Supervisor at CAPA-Kansas City.
Staff Therapists provide individual, family, and group counseling services for families who have experienced trauma.  Counseling services are provided in the CAPA office, virtually and/or in community-based settings, including but not limited to area schools. Learn more about our Licensed Therapist position here.
Clinical Intern Supervisors recruit, screen, select, train, and provide on-going supervision and evaluation of graduate-level student interns in addition to maintaining required record-keeping and providing face-to-face child, individual, group and/or family therapy, case management, crisis counseling, court advocacy, helpline and/or any other services as assigned. Learn more about our Clinical Intern Supervisor position here.
Interested candidates should submit a current resume to CAPA Human Resources. Resumes accepted until positions filled.