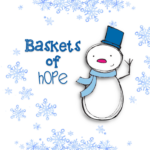 CAPA is once again making plans to bring a little hope and joy to children and families this winter. Can you help?
CAPA knows that families are able to do their best when they feel supported. What started many years ago as stockings for children, has evolved into a robust fun-filled basket collection drive that gives families a way to positively connect and enjoy some stress-free time together during the long winter break. This winter, help us reach our goal of collecting 200 baskets filled with items that support "family time" and show the children and families we serve in our prevention and counseling programs that we care.
Download our 2022 Baskets of Hope flyer that has all the details – including what items should fill each basket and how to sign up. Questions? Contact us today!